• DAT
  If you have made up your mind to pursue a career as a dentist, you will need to fulfill several prerequisites to qualify to study dentistry. One such requirement is taking the Dental Admission Test (DAT), which assesses your academic aptitude and scientific knowledge. It is essential to understand the DAT thoroughly to ensure you take the necessary steps to ace the exam and get into your desired dental program. In this article, we will provide you with all the essential details regarding the DAT exam. For more information about DAT registration, preparation, and scores, please go to the ADA's site....
---
• DAT • DAT Prep • DAT Prep Book • DAT Reading • DAT Study Guide • OAT Prep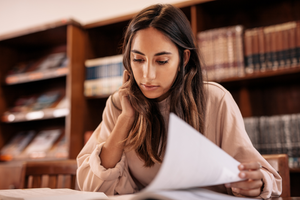 One of the trickiest parts of the Dental Admission Test (DAT) is the Reading Comprehension section. Even for native English speakers, this portion can be daunting because of its complexity and time constraint. However, don't fret! Here's a guide to help you boost your confidence and score well in the Reading Comprehension segment of the DAT exam.  Understand the Structure of the Test To ace the Reading Comprehension section, you must first understand how it is constructed. This part of the DAT test includes four passages, each consisting of approximately six to eight paragraphs, followed by 15-17 questions per passage....
---
• DAT • DAT General Chemistry • DAT Prep • dat prep book • DAT Study Guide • OAT Book • OAT Prep
The Dental Admission Test (DAT) is an important step towards becoming a dentist. A high score on the DAT is crucial for admission to dental schools. And, for this reason, it's no surprise that preparation for the DAT is no easy feat. Many students use the DAT Destroyer Study Guide to help them prepare for the exam. But, is this study guide really necessary? In this blog post, we'll analyze the DAT Destroyer study guide and determine whether it is an essential tool for DAT test prep or an overkill. Challenging DAT-like Questions. The DAT Destroyer study guide is a...