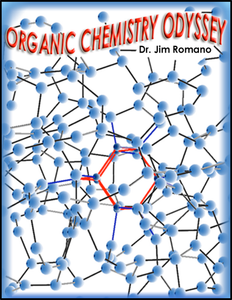 2023 Organic Chemistry Odyssey - DAT Prep Books | OAT | MCAT| Organic Chemistry
Regular price
$129.95
$0.00
Save up to 20% on Combo Packages > See below!
Prospective dental and ophthalmology students must take challenging exams as part of their admissions process; the Dental Admission Test (DAT) and Optometry Admission Test (OAT). These tests evaluate various academic and perceptual abilities, as well as basic scientific understanding. Organic chemistry is a complicated subject, but it is critical to thoroughly understand it before your exam. Organic Chemistry Odyssey gives detailed explanations of various topics, making it the perfect companion to your DAT Destroyer and OAT Destroyer, an OAT and  DAT test study guide.
What is Organic Chemistry?
Organic chemistry studies reactions, structures, properties, preparation, and composition of carbon-containing compounds. Organic chemistry was initially limited to the study of naturally occurring compounds but now includes human-made compounds such as plastic. A basic understanding of organic chemistry helps you pass your exam and provides you with a solid foundation for learning scientifically-based concepts you will explore throughout higher education.  
What Topics are Covered?
Dr. Romano's Organic Chemistry Odyssey features detailed solutions and explanations to over 900 problems to help you prepare for the DAT, OAT, MCAT, or another exam. 
Table of Contents
Concepts in Organic Chemistry

Acids and Bases

Cycloalkanes and Radicals

Stereochemistry

Elimination Reactions

Alkenes

Alkynes

Substitution Reactions

Alcohols

Ethers

Alcohols and Ethers II

Aromatics

Aldehydes and Ketones

Carbonyl Compounds

Spectroscopy

Amines

Carbohydrates

Amino Acids

Fatty Acids

Lab Techniques
Build a Stronger Foundation
Dr. Romano knows there is no secret or magic formula to achieving a good score on your DAT, OAT, or MCAT. That's why Organic Chemistry Odyssey takes you back to the basics, helping you build a strong foundation in organic chemistry concepts in easy-to-understand language. A thorough understanding of organic chemistry prepares you to answer any question thrown your way while also preparing you for other concepts you will learn in dental or optometry school. Consider purchasing our renowned DAT Destroyer or OAT Destroyer, our OAT and  DAT test study guide after mastering the basics of organic chemistry.
Discount Packages
You can purchase the OAT and  DAT Organic Chemistry Odyssey in a discount package with other popular study materials, including our DAT test study guide, DAT Destroyer. Other titles available in a discount package include Math Destroyer, OAT Destroyer, General Chemistry Destroyer  Complete your collection for the ultimate OAT or DAT study guide.
'DAT Destroyer'
There's a reason Dr. Jim Romano is known as 'Orgoman'. After obtaining two degrees in Organic Chemistry and Dental Surgery, Dr. Romano found his true passion in helping students succeed. Alongside Nancy Steen, co-founder of Orgoman and CEO of Romano Scientific, Dr. Romano published the Destroyer books, including the best DAT study guide and OAT prep book on the market, DAT and OAT Destroyers. Orgoman provides students with various resources to help them pass exams and move on to the next step in their educational journey. 
Additional Services
Are you still looking for more support on OAT and DAT organic chemistry and other concepts? Apart from our OAT and  DAT test study guides, we offer DAT/OAT camps three times per year in September, January, and May. You can also consider joining our online study group for free information, questions, videos, peer support, and more. 
👉All Product Discounts
Current Discount Code Destroyer15
When you buy 2 or more books a discount is automotically at checkout only 1 discount per order
1. DAT(OAT) Destroyer and Math Destroyer
$50 discount automatically added at checkout

2. DAT(OAT) Destroyer and Organic Chemistry Odyssey
$55 discount automatically added at checkout

3. DAT(OAT) Destroyer and General Chemistry Destroyer
$55 discount automatically added at checkout

4. DAT(OAT) Math Destroyer, Organic Chemistry Odyssey
$85 discount automatically added at checkout

5. DAT(OAT) and Math Destroyer, General Chemistry Destroyer

$106

discount automatically added at checkout

6. DAT(OAT) and Math Destroyer, General Chemistry Destroyer, Organic Chemistry Odyssey
$
136

discount automatically added at checkout

7. DAT Destroyer(OAT) - Math- Destroyer- Organic Odyssey- GC Destroyer- Dr. Romano's Bio Review
$136 discount automatically added at checkout
---