Don't Pass Up the Perfect Score - Use The DAT and OAT Destroyer!
Experience Success on the DAT and OAT With Our Top-Ranked Test Prep Since 2006! Are you preparing to take the DAT or OAT Exam? If so, you're likely feeling overwhelmed with the amount of test prep programs available and unsure which one is right for you. At Orgoman, we understand your need for a comprehensive program that won't break the bank. That's why we offer our flagship products, DAT Destroyer and OAT Destroyer – trusted by tens of thousands of students across the United States and Canada.
2024 Spring and Summer
Classes Start Jan 28,May 28
Exciting news for all aspiring DAT and OAT test-takers! The classes, offered by Dr. Romano and Prof Barengolts, online and in person. Get ready to prepare yourself for the test and gain the knowledge and expertise necessary to ace the exam. Whether you're looking to build your foundational skills or gain valuable test-taking strategies, our expert instructors have got you covered.
More info
Save Big When You Buy in Bundles!
Linda | TS 30 AA 25
A ginormous shout out to Dr. Jim Romano's class and books for helping me truly understand and grasp the material and for always being there to answer my questions and clear my confusion.
Joe | TS 25 AA 24
Thank you Dr. Jim Romano for a great summer! I had a wonderful experience from the start of the class up until the end. You are the most passionate professor that I have been taught by and you truly care to watch us succeed. Will definitely recommend this DAT prep class to anyone I know planning on taking the DAT. Hopefully I can get that picture put up next to the Binghamton banner! Joe
buy now
Is The DAT Destroyer Worth it?
This DAT Study Guide has a reputation for being challenging, but it is precisely that feature that helps students push themselves to think critically and learn more effectively. The book contains over 1,600 practice questions, all of which are designed to simulate the actual DAT exam. That means that students who have used the DAT Destroyer are more likely to feel confident and adequately prepared when taking their test.


DAT Study Materials today!
Brendon | TS 24 AA 22
Dr Romano and the Destroyer team. I have amazing news! I took my DAT today and got a 22 AA, 24 TS! I worked my a** off for this exam, but I promise you I never would have been able to do as well as I did with out you and the destroyer. Thanks again!
Brendon
Buy Now
Aside from our popular study guides, Orgoman is pleased to offer DAT/OAT camps three times per year in September, January, and May. You can also join our study group for helpful, free information, questions, videos, and more.
Curious about one-on-one online tutoring? Contact us for more information.
Your perfect study partner to help prepare for your upcoming DAT or OAT Exam, DAT Destroyer offers expert DAT exam preparation with tons of content and practice opportunities—all for one price. Our comprehensive program includes detailed video content on our youtube channel from instructors with years of experience and get real-time help from experts in the field in our DAT Destroyer study group found on FB. We also offer a downloadable Bio Review found in our study group and outlines perfect for studying on the go.

Save time studying while remaining confident in your progress! Let's ace this exam together—DAT Destroyer and OAT Destroyers are here to make sure success is just around the corner.
Jamie |TS 30 AA 26
The Destroyer is a really tough book, and seems really scary at first, especially if you are brand new to the material, but I promise if you put in the time to understand all the questions in it, you will fly through the science section of the exam
Buy Now
Why Students Love the Destroyers and Our Classes!
"I wanted to thank you and Dr. Romano for all the help and for the incredible dedication. The course was absolutely invaluable and thoroughly worth the long drives out the Staten Island. You guys truly go above and beyond and I cannot thank you enough!"
Bio: 22, Gen Chem: 24, Orgo 22 QR: 30, TS: 24 AA 26
— Miss T
About Orgoman–"DAT Destroyer"
Deciding on your future career is half the battle–many fields of study require tests in order for admission to your school of choice. Two of these include the Dental Admission Test (DAT) and the Optometry Admission Test (OAT). These exams will measure your academic and perceptual abilities, as well as your understanding of natural sciences. Preparing for the DAT or OAT can feel daunting–it's your future, after all! Orgoman provides the best DAT test study guide and other comprehensive prep books to help you build your confidence and skills as you prepare for test day. 
Dr. Jim Romano and Nancy Steen founded Orgoman to give students the tools to pass the challenging DAT or OAT and excel in their future careers. Dr. Romano is the founder and head instructor at Romano Scientific and the author of the Destroyer books. Orgoman has been helping students achieve their full potential since 1999 and is known as "DAT Destroyer." 
No Secrets, Just Results
There is no DAT test study guide or OAT prep book with an exact formula or secret to help you ace your exam. Dr. Romano has interviewed many students who have taken the DAT or OAT to create practical prep books that garner incredible results. Orgoman's DAT study guide, alongside our other Destroyer books, will help you build a solid foundation in science and math skills to handle a wide range of potential questions so you can earn a high score on your test.
While there is no guarantee that our materials will help you obtain a high score, students across the country have successfully passed their exams using Dr. Romano's books. 
DAT Destroyer
Orgoman's most popular books are DAT Destroyer and OAT Destroyer, OAT and DAT Prep study guides that can help you avoid the dreaded retake. Many students using DAT and OAT Destroyer have scored in the 90th percentile! Work through 600 pages of questions that will test your reading comprehension, quantitative reasoning, perceptual ability, and scientific knowledge. Pass your DAT with flying colors as you continue your educational journey into a lifelong career.
Additional Services
Aside from our popular study guides, Orgoman is pleased to offer DAT/OAT camps three times per year in September, January, and May. You can also join our study group for helpful, free information, questions, videos, and more.
Curious about one-on-one online tutoring? Contact us for more information.
See What Orgoman Destroyers Can Do for You!
If you are a prospective dental or optometry student looking for the best OAT or DAT study guide, you've come to the right place. Prepare for your exam and own your future today with Orgoman's Destroyer books.
Blog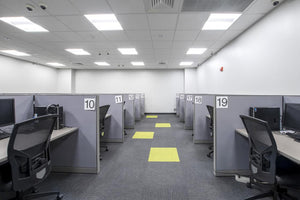 As a predental student, it's essential to know everything about the DAT exam. It is a standardized test that assesses your academic abilities in various subjects and critical thinking...