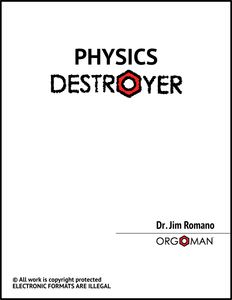 2023 Physics Destroyer
Regular price
$99.95
$0.00
Save up to 20% on Combo Packages > See below!
OAT & MCAT Test Study Guide - Physics Destroyer
If you're preparing for a test including the Optometry Admission Test (OAT), Medical College Admission Test (MCAT), Scholastic Aptitude Test (SAT), or AP Physics Exam, Orgoman's Physics Destroyer is the perfect study guide for you. All of these exams require a thorough understanding of physics. Physics is a complicated subject, so you're going to need an OAT prep book that walks you through each concept in a comprehensive way. Dr. Jim Romano has developed these study materials to help you score high in this subject, whatever exam you may be preparing for.
Concepts Covered in Physics Destroyer
The field of Physics studies the fundamental constituents of the universe, their structure, and how they interact with one another. Physics examines matter's behavior concerning space and time, exploring energy and force. A solid understanding of physics will enable you to score high on your OAT, or AP test.
The  Physics Destroyer incorporates a wide variety of concepts, including modern physics. Subjects include:
Vectors

Motion

Momentum

Newton's Law

Energy

Work

Power

Fluids

Waves

Electronics

Circuits

Capacitors

Transformers

De Broglie Wavelength

Magnetism

Optics
An Effective Way to Master Physics
Dr. Jim Romano has developed a supplemental workbook that teaches each concept in multiple-choice questions with detailed step-by-step solutions that ensure a deep understanding of each subject. Solve a set of ten intricate problems that mimic questions you may encounter on your AP physics exam or other tests. Physics is a challenging subject to learn. Still, with intuitive teaching methods developed by Dr. Romano in this OAT test study guide, you'll enter the room on exam day with complete confidence in your knowledge of physics.
Further Prepare for Your Exam With Other Materials
If you're preparing for the OAT, or MCAT, you will need to study more than just physics. We have many other study materials available to help you prepare for your test, such as the popular  OAT prep book OAT Destroyer. For a more detailed explanation of individual subjects, take a look at Math Destroyer, General Chemistry Destroyer, Organic Chemistry Odyssey, and Dynamic Biology Review. Dr. Jim Romano is known as 'Orgoman' by students who have passed the exam thanks to his incredible books. Read reviews here.
About Orgoman
Orgoman was co-founded by Dr. Jim Romano and Professor Nancy Steen to bring scientific materials and education to students worldwide as they excel in higher education. After obtaining two degrees in Organic Chemistry and Dental Surgery, Dr. Romano found his true passion was helping students. Together, Nancy and Dr. Romano have built an empire founded on integrity and innovative approaches to guiding students through their education. Dr. Romano's DAT study guide and OAT test study guide alongside other materials, have allowed students from all walks of life to achieve their dreams and reach their full potential.
👉All Product Discounts
Current Discount Code Destroyer15
When you buy 2 or more books a discount is automotically at checkout only 1 discount per order
1. DAT(OAT) Destroyer and Math Destroyer
$50 discount automatically added at checkout

2. DAT(OAT) Destroyer and Organic Chemistry Odyssey
$55 discount automatically added at checkout

3. DAT(OAT) Destroyer and General Chemistry Destroyer
$55 discount automatically added at checkout

4. DAT(OAT) Math Destroyer, Organic Chemistry Odyssey
$85 discount automatically added at checkout

5. DAT(OAT) and Math Destroyer, General Chemistry Destroyer

$106

discount automatically added at checkout

6. DAT(OAT) and Math Destroyer, General Chemistry Destroyer, Organic Chemistry Odyssey
$
136

discount automatically added at checkout

7. DAT Destroyer(OAT) - Math- Destroyer- Organic Odyssey- GC Destroyer- Dr. Romano's Bio Review
$136 discount automatically added at checkout
---