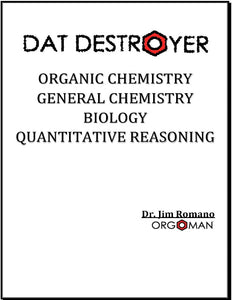 Order Your 2023 DAT Prep Books | 2023 DAT Destroyer
Regular price
$174.95
$0.00
Save up to 20% on Combo Packages > See below!
Destroy the DAT With Our 2023 DAT Prep Books
How many questions are in 2023 DAT Destroyer

Organic Chemistry 471 problems with solutions
General Chemistry 537 problems with solutions
Biology 903 problems with solution
Quantitative Reasoning 152 problems with solutions
Like any standardized or admissions test, overcoming the Dental Admission Test (DAT) is no easy task. The DAT encompasses a broad range of topics and subject matters, and every aspiring dentist in the United States or Canada has to pass it to get into dental school. Any applicants will want to ensure they study with the best possible DAT exam prep books to attain the best results.
Unfortunately, choosing an adequate study tool is a difficult choice in itself. As future test takers struggle to determine what they must study to ace the DAT, our team from Orgoman has a detailed, comprehensive resource: our DAT Destroyer DAT prep books.
What Does the DAT Cover?
The Dental Admissions Test (DAT) represents part of the admissions process for students to get into dental school. The examination analyzes an applicant's general academic ability, comprehension of scientific information, and perceptual ability.
The content on the DAT includes four testing sections that comprise the examination, and it's also important to note there are subsections to keep in mind too:
Survey of Natural Sciences

Biology

 General chemistry

Organic chemistry

Reading Comprehension

Perceptual Ability

Quantitative Reasoning
What is the DAT Destroyer?
The DAT Destroyer is a DAT exam prep book written by Dr. Jim Romano from the Orgoman team. This book focuses on helping provide students with everything they need to crack their examination.
In each section of the book, users will find various multiple-choice questions to provide enough practice to face the real test confidently. The book is a practice guide, helping students to sharpen their knowledge as they prepare for the DAT.
The DAT Destroyer includes:
Organic Chemistry

General Chemistry

Biology

Math and Quantitative Reasoning
DAT Destroyer additionally includes some tips for overcoming each subject contained in the DAT. Book users have access to questions and problems similar to previous DAT examinations and additional free resources to utilize with the book.
Practice Makes Perfect
Orgoman intends for students to utilize the DAT Destroyer as a practice DAT Prep book that can help to hone their aptitude before taking the examination. Our team revises the DAT Destroyer information yearly to keep the source material relevant.
As one of the most effective (and price-conscious) tools available today to help with the DAT test and secure admission into the best dental schools, DAT Destroyer remains an ideal solution for study guide purposes and to help students. This DAT exam prep book motivates applicants at their own pace.
At Orgoman, we understand that every student has a different style and learning pace. While students may take some time to acclimate to DAT Destroyer, they typically get more comfortable with the information within to utilize it as a comprehensive study resource.
Orgoman takes pride in providing students with every tool they need to conquer the DAT using our practice-intended and informative materials. The DAT Destroyer is a practical resource to help students feel comfortable taking their examination, armed with the information they need to overcome the DAT. If you're interested in this or any other DAT Prep books, we can help you find what you're looking for.
👉All Product Discounts
Current Discount Code Destroyer15
When you buy 2 or more books a discount is automotically at checkout only 1 discount per order
1. DAT(OAT) Destroyer and Math Destroyer
$50 discount automatically added at checkout

2. DAT(OAT) Destroyer and Organic Chemistry Odyssey
$55 discount automatically added at checkout

3. DAT(OAT) Destroyer and General Chemistry Destroyer
$55 discount automatically added at checkout

4. DAT(OAT) Math Destroyer, Organic Chemistry Odyssey
$85 discount automatically added at checkout

5. DAT(OAT) and Math Destroyer, General Chemistry Destroyer

$106

discount automatically added at checkout

6. DAT(OAT) and Math Destroyer, General Chemistry Destroyer, Organic Chemistry Odyssey
$
136

discount automatically added at checkout

7. DAT Destroyer(OAT) - Math- Destroyer- Organic Odyssey- GC Destroyer- Dr. Romano's Bio Review
$136 discount automatically added at checkout
---